PlayStation Network (PSN) Gift Card on PS4/PS3/PS Vita with Gamer Shop BD.

PlayStation Store Gift Card (Email Delivery)
Get the PlayStation Gift Card and discover thousands of PlayStation games. It's the Ultimate Entertainment Gift Card for gamers. PlayStation®Store Gift Cards fill your PSN Wallet with cash, allowing you to download new games, DLC, and videos, as well as stream movies and music. The all-new PlayStation®Store experience is here! The PlayStation®Network card is an easy and convenient way to make your PlayStation®Store purchase without using a credit card.
PSN Gift Cards apply to PlayStation 3, PlayStation 4, PSP, and PS Vita. Then your PSN wallet is going to be provided with the same amount of money you had on the card itself. You can then use the money to buy games for your console.
FEATURES:
Discover the most exciting way to get games, movies, TV shows, and more.
We've rebuilt the PlayStation®Store to make discovering your favorite content easier, faster and more fun. To get started, fire up your console and click on PlayStation®Store. Discover new content – there is more to see, more to choose from, more to interact with!
A totally re-imagined interface with liquid design showcases entertainment in a whole new light. Improved filters draw from a deeper and richer list of categories. Predictive search makes it easier to find what you need quickly. Streaming videos and improved product pages give you more in-depth information.
Latest Movies
Looking for a movie? Chances are we've got it. Rent or own brand new releases, HD films, and hundreds of classics. Start watching your movie right away with streaming.
Latest Shows & TV Series
You know what TV you want to watch. Why wait? Download whole seasons of hundreds of series.
---
What to know before buying a PlayStation Network Card
What's included with a PlayStation Network Card?
This PlayStation Network Card includes a redeemable game code worth $10-$200 in the PlayStation Store.
Is there a region lock for this PlayStation Network Card?
Yes.
---
How to redeem a gift card code on your PS4
1. Log into your account on your PS4 and access the PlayStation Store. This should be a registered account with internet access.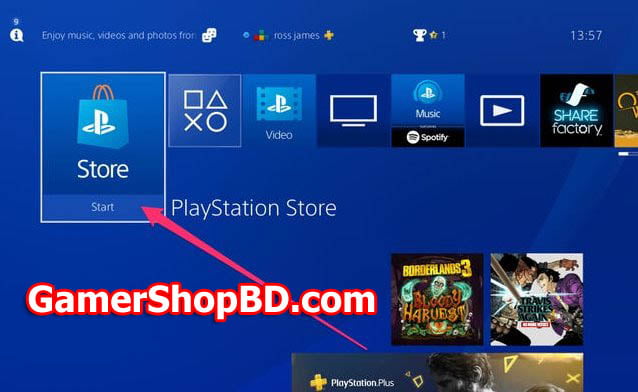 2. From the PlayStation 4's Store menu, scroll down to the second-to-last option, "Redeem Codes,"
3. Your voucher should have come with a 12-digit code that you can now enter into this box.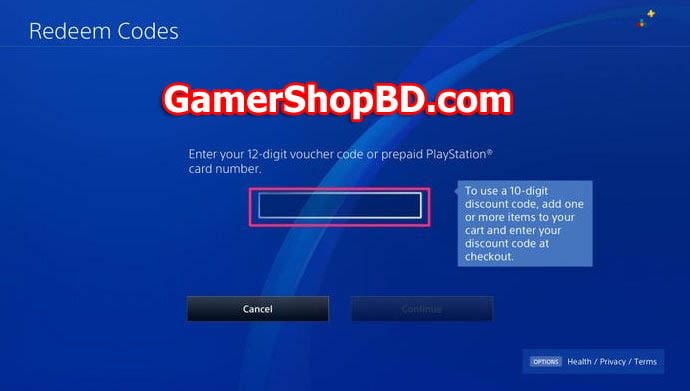 Once the code has been confirmed and checked, the value assigned to the code will be added as credit to your PlayStation Store wallet.
Web Browser:
Load your web browser, follow this link (https://store.playstation.com/), and log into your PSN account
Click on the "Account" tab, and then select "Redeem Prepaid Card" from the menu on the left.
After entering the code from your gamershopbd.com confirmation email, you will see a list of the items you are about to receive. Scroll to the bottom and click "Redeem".
You can navigate to the "Media" tab to ensure your content is now available.
PS Vita:
Log into your PSN account and head to the PlayStation Store
Select "Options", and then "Redeem Codes" from the menu
Enter the code you received in the confirmation email from gamershopbd.com.
You can find additional support for your PSN account here: https://support.us.playstation.com/