Sea of Thieves is a 2018 action-adventure game developed by Rare and published by Xbox Game Studios. The player assumes the role of a pirate who completes voyages from different trading companies in order to become the ultimate pirate legend.
Wikipedia
LEGENDARY ADVENTURES
Explore a vast open world of unspoiled islands, sunken ships and mysterious artefacts. Seek out lost treasure, confront cursed Skeleton Captains and protect precious Trading Company cargo. Go hunting and fishing or dip into hundreds of optional goals!
LEGENDARY STORIES
Play through Tall Tales to experience Sea of Thieves' unique take on a story-driven campaign. With 11 Tales to play through across two epic storylines, these immersive and cinematic quests provide around 30 hours of the ultimate pirate fantasy.
LEGENDARY SEASONS
Enjoy a new way to play Sea of Thieves this year with the introduction of Seasons. Build up your Renown and unlock rewards naturally as you play, or tackle Trials to boost your progress. Seasons also unleash new Events, incentives and game features!
LEGENDARY BATTLES
The seas are never safe! On the water, beware encounters with Skeleton Ships, eerie fleets of Ghost Ships, grasping Krakens and ravenous Megalodons. On land, take on well-defended Skeleton Forts to steal their riches, or do battle with raging Ashen Lords.
LEGENDARY LOOKS
Customise your pirate as you build a new legend. Gather gold and Doubloons or complete Commendations to expand your range of outfits. Choose weapons, hairstyles, tattoos and even curses to help you stand out from the crowd – then style your ship to match!
BECOME LEGEND
On your journey to become a Pirate Legend you'll amass loot, build a reputation and define a unique personal style with your hard-earned rewards. Adventurer, explorer, conqueror… what will your legend be?
BRING ALONG A FRIEND
The Pirate Emporium offers pet sidekicks alongside rare ship sets, costumes, emotes and other goodies! Choose from various pet breeds of dog, cat, parrot or monkey, and take your new friend on all your adventures.
JOIN IN REGULAR EVENTS
Visit the Events Hub to find Daily Bounties and earn in-game currency each time you play, or take part in regular and timed events that boost your rewards or unlock special cosmetics.
ENJOY FREE UPDATES
Regular free updates come to Sea of Thieves each month, adding characters, content, mechanics and rewards. Follow the unfolding lore of the world and take on new challenges!
Gallery: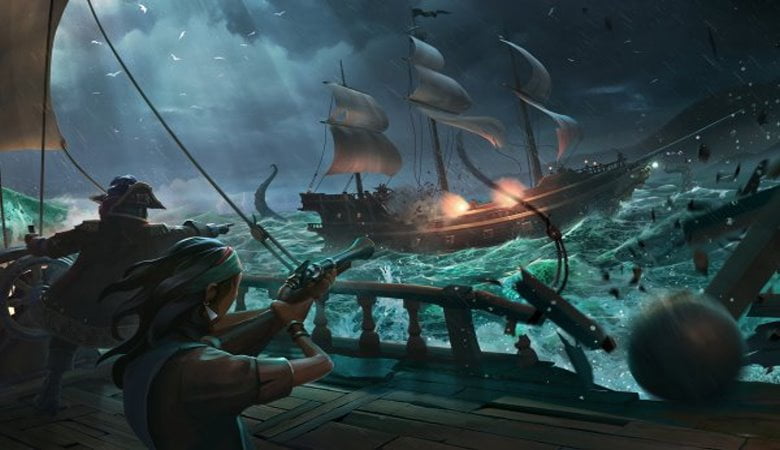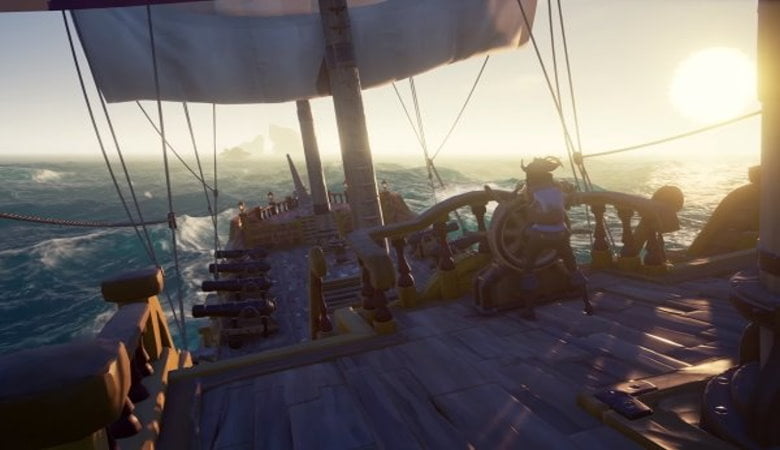 ---